Bridgnorth Calendar 2023
Product ID: BridgnorthCalendar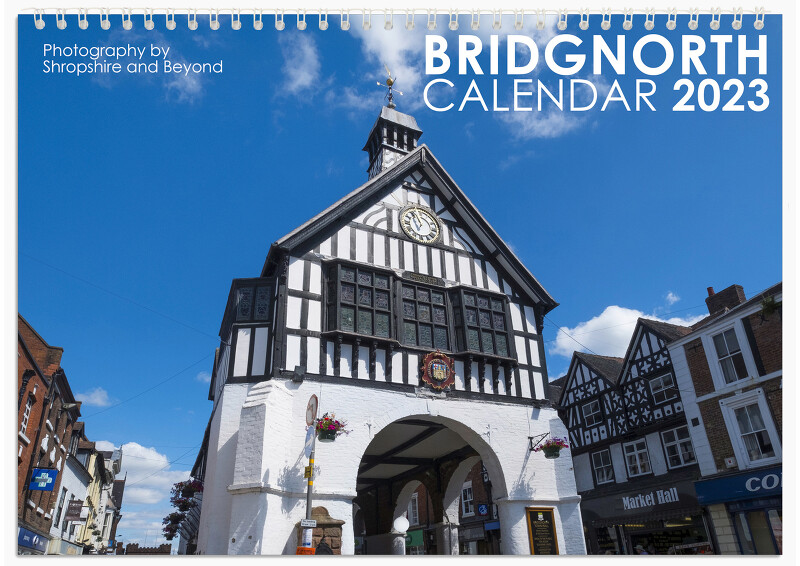 £9.99 (inc UK P&P)
The Town Hall beneath a bright blue sky is featured on the cover of our Bridgnorth Calendar 2023.
Other pictures include the town surrounded by morning mist, Bishop Percy's House, daffodils in the churchyard at St Leonard's, Northgate, the Cliff Railway and the castle ruins and gardens.
Also featured are Cartway, St Mary's Church surrounded by blossom, the former Ridley's warehouse in Low Town, Bridgnorth in autumn and High Rock covered in ice and snow.
This is an A4 calendar which folds out to A3 in use, with plenty of space for all your appointments. It is printed on 250 gsm silk and has a spiral wire binding, with a hole punched for ease of hanging.
The Bridgnorth Calendar 2023 costs £9.99 with free UK postage (Royal Mail 2nd Class). It fits into Royal Mail's large letter category and is supplied with a mailing envelope.
Environmental note: All our calendars are printed in the UK and are fully recyclable.
The images on this website are owned by Shropshire and Beyond. Unauthorised use is prohibited by law under the Copyright, Designs and Patents Act 1988